Telephone
+358 207 928 928
E-mail
office@basket.fi
Web
https://www.basket.fi/basketball-finland
Address
Basketball Finland
Espoo Metro Areena, Urheilupuistotie 3
02200 Espoo
Finland
Arriving to Espoo Metro Areena:
The easiest way getting to the Espoo Metro Areena is by metro. Please make sure that you take the train to MATINKYLÄ and take off on the URHEILUPUISTO station. It is situated about 500m from the Arena. Please find all the routes from Reittiopas.
By car you can access the Arena either from Länsiväylä highway (51) via Tapiola, Merituulentie and Koivu-Mankkaantie – or from Kehä 1 via Tapiola crossing along Kalevantie to Koivu-Mankkaantie. Signposts will direct you there.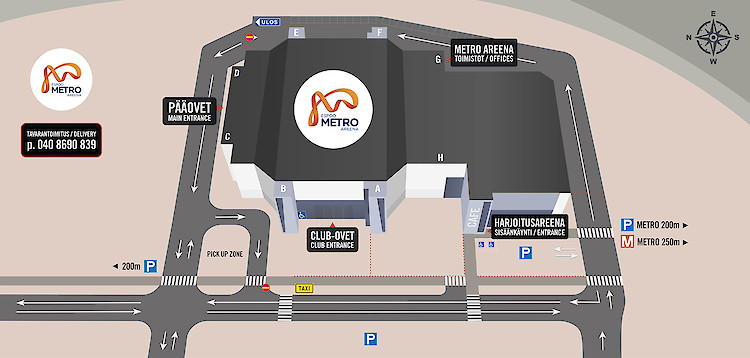 Office hours
Monday-Friday from 9.00 till 16.00 (local time)
International affairs
Please forward official inquiries to general e-mail address of Basketball Finland.
International co-operation between federations
Managing Director, Mrs. Kati Packalén
kati.packalen@basket.fi
+358 40 673 5614
International media relations
Communications Director, Mr. Mika Mäkelä
mika.makela@basket.fi
+358 44 562 66 26
Address of bank
Sampo Pankki
Kaupintie 3
00440 Helsinki
Finland
IBAN
FI12 8000 1300 1702 15
SWIFT-BIC
DABAFIHH