FINNISH BASKETBALL HALL OF FAME
Three different functions include:
1. Museum and exhibition activities
2. Alumni functions (and mentor program)
3. Hall of Fame
MUSEUM WORK
The basketball museum collects, preserves, and exhibits Finnish basketball culture. Small exhibitions are scattered around Finland supporting basketball culture locally. Plenty of digital material is available, especially on social media.
At the core of museum work is taking care of the heritage for future generations. The aim is to continuously expand the collection in order for it to represent the development of basketball, and its phenomena, sufficiently comprehensively.
ALUMNI FUNCTIONS AND MENTOR PROGRAM
Get Back in the Game! The alumni network of the basketball community brings people, who love the sport, back to basketball with new programs.
Modes of operation:
Alumni events: Alumni Golf, Alumni Gala, 3x3Tournament
Seminars
Spreading the operations on a local level
Sponsored players
"Ribari"-basketball publication, carried out by alumni
The mentor program supports the transition of basketball players to working life, professional development, and career planning. The mentors are experts with basketball backgrounds, who want to share their working life experiences and views, as well as their professional networks. Mentor program is for whole basketball family (coaches, referees, club organisators, etc.).
HALL OF FAME
Distinguished individuals, who have contributed to Finnish basketball, can be elected into the Hall of Fame, such as, players, coaches, referees, club or organization members, or others, who have worked in the field of basketball. According to the definition: "With a personal contribution, has significantly contributed to the national team, club or local community, and at the same time left their mark in the history of Finnish basketball and in the hearts of its supporters."
The Basketball Museum is in charge of the selections based on expert recommendations.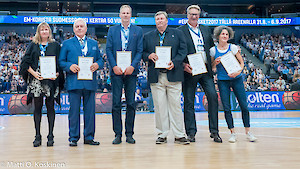 Contact
Juha Matti Holopainen
Koripallomuseoyhdistyksen pj.
040 7011532